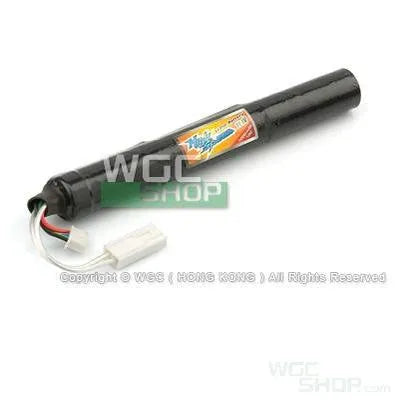 MAGIC BOX High Speed 11.1V Li-ion Battery 1000mAh 12C ( Single Stick Pack )
Availability:
in stock, ready to be shipped
Original price
$328
-
Original price
$328
Important note: All lithium batteries can only be shipped by surface mail or UPS (UPS only accepts maximum 1pcs of 1 shipment) 
- 3-cell Li-ion Battery
- Comes with Mini Plug & Balance Plug
- Size is slightly larger than conventional stick-type battery, some AEGs may need modifications to fit.
- Peak Voltage: 4.1V per cell

NOTE: 
The user should practice extreme caution during use of Lithium Based Batteries.
Specific charger for Lithium Based Battery is required.
Balance Charging or using Balancer is highly recommended.
Improper use of Lithium Based Batteries may cause damage or lead to safety problem, e.g. overheating ,leakage or explosion. Please consider thoroughly about the corresponding risks before making a purchase.
PHOTOS & IMAGES COPYRIGHT

Unauthorized use of this photos or images is prohibited and WGCShop reserves the right to pursue legal action.