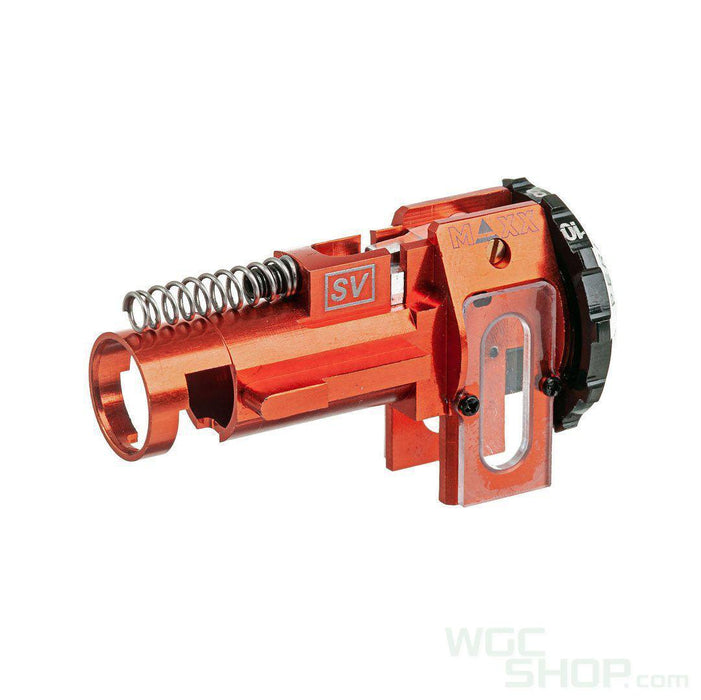 Maxx CNC Aluminum Hop-Up Chamber SV-VFC SCAR-L/H
Original price
$390
-
Original price
$390
CNC Aluminum Hopup Chamber SV unit is specially designed to improve accuracy, durability and ensure consistent air seal for VFC SCAR-L/H AEG series.̴Ì_
The Hopup Chamber SV unit has a precision rotary dial design for fine hopup adjustments, also re-engineered the hopup levers and concave nubs to work best with R-hop and Standard-Hop to keep the BB bullet shooting straight and accurate on every single shot.̴Ì_
The Hopup Chamber SV unit is designed to accept the nozzle length from 21.00mm to 21.25mm on VFC SCAR-L and 38.50mm to 38.75mm on VFC SCAR-H, and also fully compatible with most aftermarket soft and hard rubber bucking without losing FPS or dropping BB bullet.̴Ì_
The Hopup Chamber SV Housing is equipped with a new CNC Delrin Locking C-Clip design to hold barrel tight without wobbling and twisting. With the new extended sliding arms design on both side of the chamber housing, the hopup unit is always centered, straight and air tight at all times when closing the receivers.̴Ì_

***The UV LED Tracer and Electronic Module are optional add-ons to glow BB bullet in the dark. Operating Voltage from 7VDC - 15VDC (2-4 cells LiPo, 6-13 cells NiCad). (Sold separately)̴Ì_
***The Empty Magazine Detection Sensor and Electronic Switch Controller are optional add-ons to stop Motor/HPA firing when the magazine is empty. (Sold separately)
***Test results: FPS might be increased from 10FPS to 30FPS over stock setup. Please check your FPS!
Includes:
1 x CNC Aluminum Hopup Chamber SV unit
2 x Strong Clear Vinyl Cover set
1 x CNC Aluminum Standard-Hop Arm
1 x CNC Aluminum R-Hop Arm
1 x Silicone Rubber Standard-Hop Nub Damper
1 x Silicone Rubber R-Hop Nub Damper
1 x CNC Aluminum 4.5mm length Precision R-Hop Concave Nub
1 x CNC Aluminum 6mm length Precision R-Hop Concave Nub
1 x CNC Brass Threaded Slot Pin
1 x CNC Delrin Locking C-Clip
1 x CNC Barrel Brass Spacer
1 x Brass Spacer Holder Oring
1 x Steel Compression Spring
Features:
Machined from a solid aircraft aluminum block with tight tolerances to provide better accuracy, consistency, and durability
Improved accuracy and ensure consistent air seal for VFC SCAR-L/H AEG series
Precision rotary dial design for fine hopup adjustments
Re-engineered the hopup levers and concave nubs to work best with R-hop and Standard-Hop to keep the BB bullet shooting straight and accurate on every single shot
Removable Brass Threaded Slot Pin for setup and maintenance
Accepted the nozzle length from 21.00mm to 21.25mm on VFC SCAR-L and 38.50mm to 38.75mm on VFC SCAR-H
Fully compatible with most aftermarket soft and hard rubber bucking without losing FPS or dropping BB bullet
Equipped with a new CNC Delrin Locking C-Clip design to hold barrel tight without wobbling and twisting
Extended sliding arms design on both side of the chamber housing to ensure the hopup unit is always centered, straight and air tight at all times when closing the receivers
The UV LED Tracer and Electronic Module to glow BB bullet in the dark ready!
The Empty Magazine Detection Sensor to stop Motor/HPA firing ready!