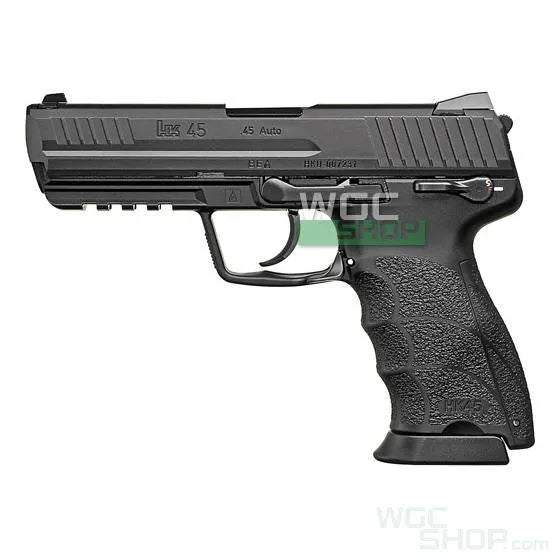 TOKYO MARUI HK45 GBB Airsoft
Availability:
in stock, ready to be shipped
Original price
$1,000
-
Original price
$1,000
Announced as a private model in 2007, the HK45 is a polymer frame handgun developed with the aim of the "ideal .45 caliber elite pistol" required by US special forces.
Pursuing the reality of HK45 based on the data measured from the real thing when upgrading the model in the gas blowback series. It enhances the reproducibility of the HK45, which incorporates a modern style, such as a unique grip shape called Spider-Man grip, interchangeable grip back strap, and decodable safety. In addition, by adopting a large bore cylinder with a diameter of 15mm for the blowback engine, it is a model that can enjoy agile and heavy reaction.
Major features
Large bore cylinder
Filling cylinder for 15mm diameter with gas for firing & blowback. Realized stable live performance and powerful blowback.
Safety & Decoking System
By operating the safety lever, it is possible to lock the hammer when it is in full cock (in a state where it can be fired), and it is possible to return from full cock to half cock in order to prevent accidental discharge due to falling.
Ambi-type slide stop and magazine catch lever
It can be operated from either the left or right side, and you can choose your dominant arm.
Grip back strap included
Two types of S / M are included. You can adjust the grip comfort according to the size of your hand.
Equipped with an under rail
A flashlight compatible with the Picatinny standard (20mm width) can be attached to the under rail integrated with the frame.
Die-cast magazine
Includes 26 rounds magazines and a die-cast magazine that resists cold.
Specification
Build Material : ABS
Magazine Capacity : 26+1 ( 6mm )
Length : 204mm
Barrel Length : 100mm
Weight : 782g
System: Gas Blowback
Fire Mode : Semi Auto-Auto
Hop-Up : Adjustable
Muzzle Velocity : Approx. 1J with 0.2bb / 134a
Package Includes : Gun, Magazine, Manuals
PHOTOS & IMAGES COPYRIGHT

Unauthorized use of this photos or images is prohibited and WGCShop reserves the right to pursue legal action.