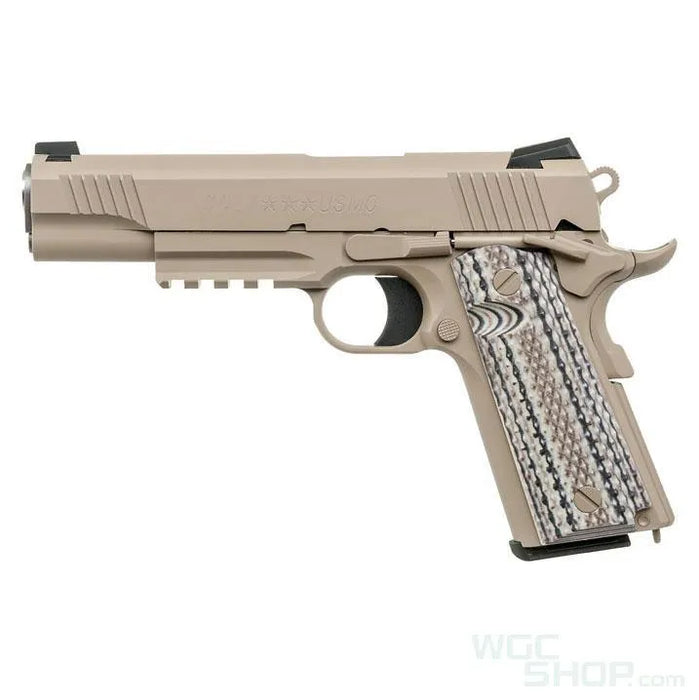 TOKYO MARUI M45A1 GBB Airsoft - Desert Earth
Availability:
in stock, ready to be shipped
Original price
$1,043
-
Original price
$1,043
In early 2000, the US Marine Corps adopted a new handgun to replace the MEU pistol. That is the "M45A1 CQB Pistol" produced by Colt.
Each part has a custom gun-like process that pursues accuracy, and a new rail-integrated frame, a characteristic laminated grip of G10 material, and a serration with a wide interval are adopted for the slide. In addition, it has become a suitable model as a successor to the MEU pistol, such as finishing most exteriors in tan collars.
The gas blowback "M45A1 CQB pistol" has been upgraded with internal mechanical features, while focusing on the distinctive appearance and reproducibility of the texture. Compared to the conventional gas blowback and government models, the recoil shock has been enhanced and the operation stability has been improved.
Major features
Frame color suitable for modern equipment
Tan color that assumes battles in desert areas such as the Middle East is adopted for each part including slide and frame. Reproduced the same color scheme as the real thing.
Parting line processing
The parting line is carefully polished by hand to create a beautiful curved surface.
Novac's officially approved die-cast rear site
Experience the high practicality of Novac site, which is regarded as the treasure of tactical sites.
G10 type grip
The characteristic laminated grip is reproduced by special printing.
Equipped with an under rail
The under rail integrated with the frame can be equipped with a flashlight compatible with Picatinny standards (20mm width).
Upgrade internal mechanism
Blowback engine has been improved to enhance the recoil shock with the same gas consumption as the conventional government model. In addition, operation stability has been improved by adopting a new short recoil system.
Metal notch spacer
The metal parts inside the slide receive the load when the slide is open, preventing the slide stop and notch from being scraped or damaged.
Die-cast magazine
Comes with 27 magazines, a die-cast magazine that is thin but strong against cold.
Specification
Build Material : ABS
Magazine Capacity : 27+1 Rounds ( 6mm )
Length : 222mm
Barrel Length : 113mm
Weight : 823g
System: Gas Blowback
Fire Mode : Semi Auto-Auto
Hop-Up : Adjustable
Muzzle Velocity : Approx. 1J with 0.2bb / 134a
Package Includes : Gun, Magazine, Manuals
PHOTOS & IMAGES COPYRIGHT

Unauthorized use of this photos or images is prohibited and WGCShop reserves the right to pursue legal action.