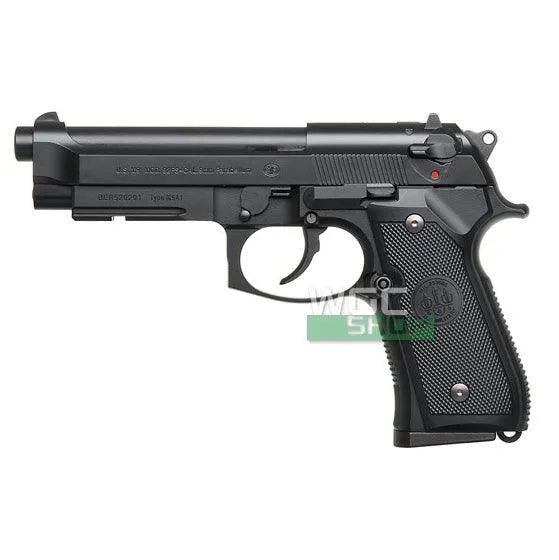 TOKYO MARUI M9A1 GBB Airsoft
Availability:
in stock, ready to be shipped
Original price
$1,000
-
Original price
$1,000
M92 series, which was adopted by the US military and became popular. Among them, the "M9A1", which was further refined at the request of the American Marine Corps, has finally appeared as a gas blowback series.
Measure the details of the M9A1, including the under rail for installing the flashlight, which is indispensable for modern indoor battles, and the checkering of the grip (non-slip). In addition, M92 users have long-awaited "variable hop-up system" and "decocking function", etc., and it has become the highest finish that incorporates the gas blowback technology that Tokyo Marui has cultivated for many years.
Major features
Realistic form
The beautiful form by Beretta, Italy and the checkering of the grip, etc. are reproduced realistically by measuring from the actual gun. In addition, the frame is equipped with an under rail of the Picatinny standard, which is the biggest feature of M9A1. Various flashlights compatible with rails with a width of 20 mm can be installed.
Powerful blowback
A model that realistically reproduces the visual force and strong reaction at the time of launch, with the slide retreating vigorously upon launch. In addition, the moving distance of the nozzle inside the slide has increased, and the silhouette when the slide is open has become more realistic.
Equipped with a decoking function
By operating the safety lever on the side of the slide, you can safely return a hammer that has been cocked once to its original position.
Reproduce the same operation as the real thing
You can enjoy a single action that fires a hammer manually and a double action that raises and fires a hammer just by pulling the trigger.
Discerning texture and weight
The slide and frame reproduce the color difference due to the difference in each material, just like the real thing. In addition, the weight of 961g, which is the same as the real one, is achieved by the weight of the metal weight placed inside. The heavy weight creates M9A1 character.
Die-cast magazine
Includes 26 magazines and a die-cast magazine that resists cold. Gas blowback series M92F and tactical master magazines can also be used.
Specification
Build Material : ABS
Magazine Capacity : 26+1 Rounds ( 6mm )
Length : 216mm
Barrel Length : 115mm
Weight : 961g
System: Gas Blowback
Fire Mode : Semi Auto-Auto
Hop-Up : Adjustable
Muzzle Velocity : Approx. 1J with 0.2bb / 134a
Package Includes : Gun, Magazine, Manuals
PHOTOS & IMAGES COPYRIGHT

Unauthorized use of this photos or images is prohibited and WGCShop reserves the right to pursue legal action.