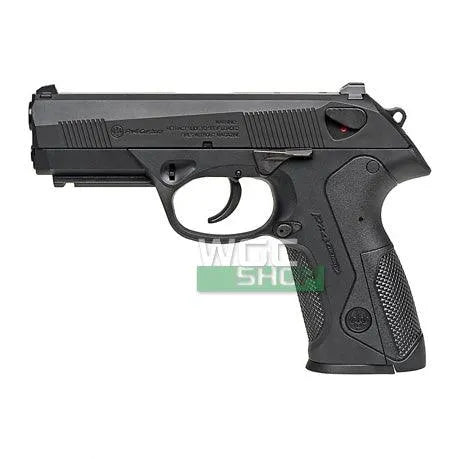 TOKYO MARUI PX4 GBB Airsoft
Availability:
Out of stock
Sold out
Original price
$1,000
-
Original price
$1,000
Tokyo Marui has lined up Px4 as the top batter of the new polymer frame model. We measure and mold from the real thing, and reproduce the details realistically. It reproduces the numerous innovative mechanisms that characterize Px4, making it a highly complete model as a model gun as well as a real gun performance as an airsoft gun.
Major features
Large-diameter cylinder adoption
A cylinder with a diameter of 15 mm is filled with gas for firing and blowback. Realized stable live performance and powerful blowback.
Rotating barrel
Equipped with a system that rotates the barrel when the slide moves backward. Also, when the safety is operated, the hexagon socket head cap bolt that simulates a real firing pin operates in conjunction.
Decoking system
By lowering the decoking lever, the hammer can be returned from a full cock (when fired) to a half cock (when fired).
Magazine catch that can be rearranged left and right
Just like the real thing, the left and right magazine catches can be rearranged, making it possible to set according to the dominant hand.
Grip back strap included
S / M / L included. You can adjust the grip comfort according to the size of your hand.
Equipped with an under rail
The under rail integrated with the frame can be equipped with a flashlight compatible with Picatinny standards (20mm width).
Die-cast magazine
Includes 25 magazines and a die-cast magazine that resists cold.
Specification
Build Material : ABS
Magazine Capacity : 25+1 Rounds ( 6mm )
Length : 192mm
Barrel Length : 91mm
Weight : 833g
System: Gas Blowback
Fire Mode : Semi Auto-Auto
Hop-Up : Adjustable
Muzzle Velocity : Approx. 1J with 0.2bb / 134a
Package Includes : Gun, Magazine, Manuals