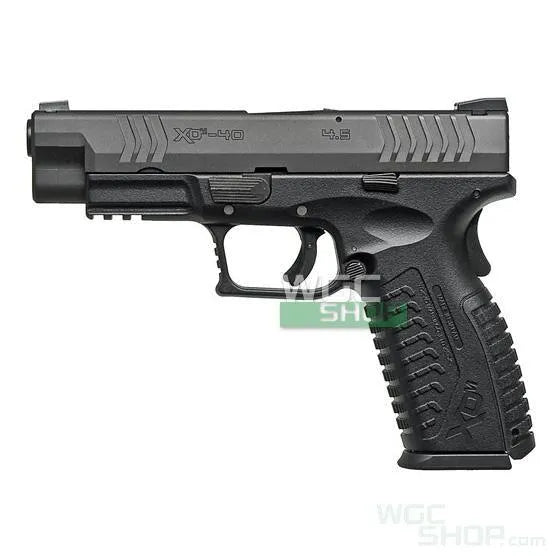 TOKYO MARUI XDM-40 GBB Airsoft
Availability:
in stock, ready to be shipped
Original price
$1,000
-
Original price
$1,000
The XDM-40 is a lineup of gas blowback series, which includes the G series and many polymer (resin) frame autos. In production, we took measurements and molds from the real thing, and reproduced details and sizes, body colors and textures on the surface.
In addition, features such as cocking indicators and interchangeable grip back straps are also faithfully reproduced. The blowback engine employs a large-diameter piston cup with a diameter of 15mm, allowing you to enjoy heavy and speedy recoil.
Major features
Large-diameter cylinder adoption
A cylinder with a diameter of 15 mm is filled with gas for firing and blowback. Realized stable live performance and powerful blowback.
Cocking indicator
By protruding the pin at the rear end of the slide, you can easily determine whether the main unit is ready to fire.
Ambi-Mag Release Button
Can be operated from either the left or right side, and you can choose your dominant arm.
Grip back strap included
S / M / L included. You can adjust the grip comfort according to the size of your hand.
Two safety systems
Equipped with two safety devices: trigger safety and grip safety. Prevents accidental fires and accidental drops.
Equipped with an under rail
The under rail integrated with the frame can be equipped with a flashlight compatible with Picatinny standards (20mm width).
Die-cast magazine
Includes 26 magazines and a die-cast magazine that resists cold.
Specification
Build Material : ABS
Magazine Capacity : 26+1 Rounds ( 6mm )
Length : 230mm
Barrel Length : 99mm
Weight : 745g
System: Gas Blowback
Fire Mode : Semi Auto-Auto
Hop-Up : Adjustable
Muzzle Velocity : Approx. 1J with 0.2bb / 134a
Package Includes : Gun, Magazine, Manuals
PHOTOS & IMAGES COPYRIGHT

Unauthorized use of this photos or images is prohibited and WGCShop reserves the right to pursue legal action.